Tuesday, April 17
–
Tuesday, May 8
Mark your calendars and join us in the library for the opening reception for Mad Radtke's exhibition, Leave the Lights On.
Reception
:
Wednesday, April 18
Library Gallery
noon–1:00 p.m. 
Spoken Word Performance:
Library Gallery
Wednesday, April 18
6:30–7:00 p.m.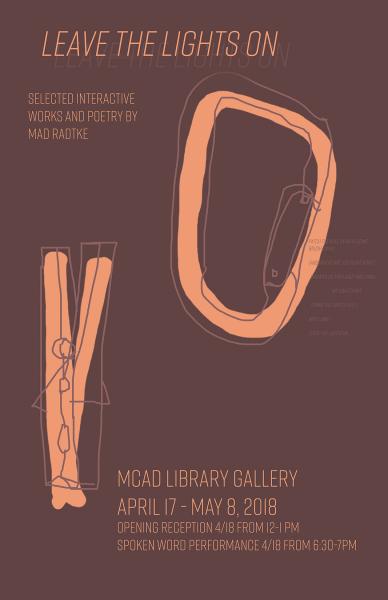 Encouraging compassionate interaction and public vulnerability, Leave the Lights On is a selection of Mad Radtke's recent furniture, home accessories, and poetry. Within an environment that lends itself to trust, the soft materials and user experience of the pieces connect the body's comfort with emotional comfort in an accessible space while discussing security in queerness and compassion for the surrounding people and space. All of the pieces within the show are welcome to gentle use by the viewers.
Leave the Lights On will be on display through May 8th.