Tuesday, January 18
–
Saturday, March 5
Reception:
Friday, January 21, 2022
6:00-8:00 p.m.

Live-performance by Hnav HMoob collaborator, Magnolia Yang Sao Yia from 6:00-7:00 p.m.
Panel Discussion:
Wednesday, February 16
6:30 p.m. CST

moderated by writer Nicole Nfonoyim-Hara
The Minneapolis College of Art and Design (MCAD), on behalf of the Jerome Foundation, is excited to present new projects by the four recipients of the 2020/21 MCAD-Jerome Foundation Fellowships for Early Career Artists: Katayoun Amjadi; Kehayr Brown-Ransaw; Nooshin Hakim Javadi; and Dej Txiaj Ntsim, Kuab Maiv Yaj, Koua Mai Yang.
---
About the Artists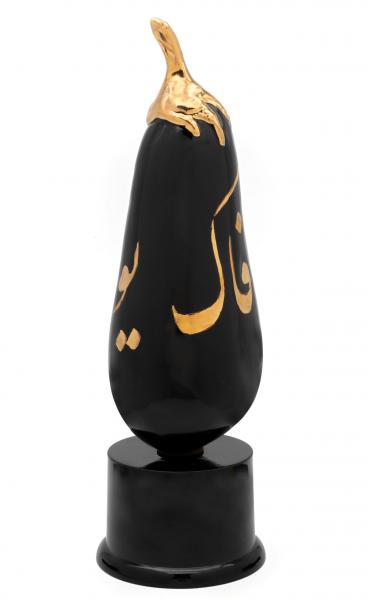 Katayoun Amjadi is an Iranian-born, Minneapolis-based artist, educator, and independent curator. In her work, she often considers the sociopolitical systems that shape our perceptions of Self and Other, such as language, religion, gender, politics, and nationalist ideologies. Amjadi blurs these boundaries and creates an off-balance, hybrid style that is slightly acerbic and a little bit tongue-in-cheek. Her art probes the relationship between past and present, tradition and modernity, and individual versus collective identity, and simultaneously seeks to spur discussion about our place in the temporal arc and the interwoven roots of our histories.
Amjadi holds an MFA in ceramics and sculpture from the University of Minnesota Twin Cities.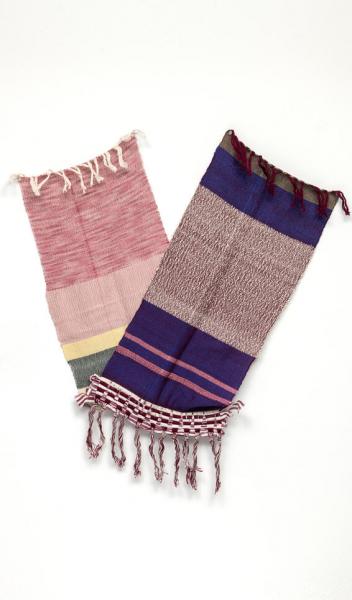 Kehayr Brown-Ransaw is an interdisciplinary artist, educator, and curator. Through quilting, weaving, and printmaking, he engages in conversations about individualism versus collectivism, familial histories, concepts of gendered work, tradition, and Blackness/Black identity. His curatorial and teaching practices are concerned with access, representation, and the presentation of marginalized communities.
Brown-Ransaw received a BFA in furniture design from the Minneapolis College of Art and Design (MCAD).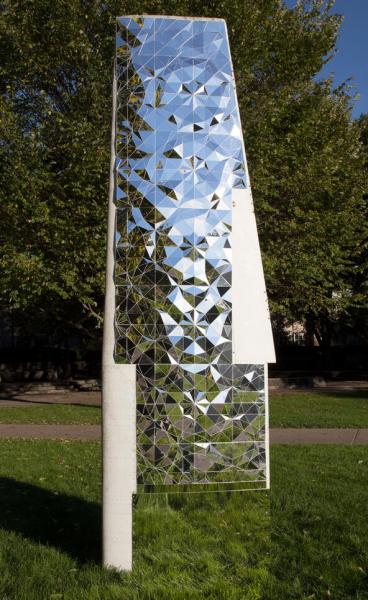 Nooshin Hakim Javadi works at the intersection of sculpture, installation, and performance. Her practice investigates the material culture of conflict through a range of ways--from objects that undergo the poetry of a destructive metamorphosis to interactive installations for shared vulnerability and empathy. She reimagines popular games as political objects that invite satirical engagement with difficult geopolitical issues. While playful, they also create visual metaphors for how conquest, in manifold forms, often masks itself as liberation.
In 2017 she received the Outstanding Student Achievement in Contemporary Sculpture Award from the International Sculpture Center, while completing her MFA in studio art from the University of Minnesota Twin Cities.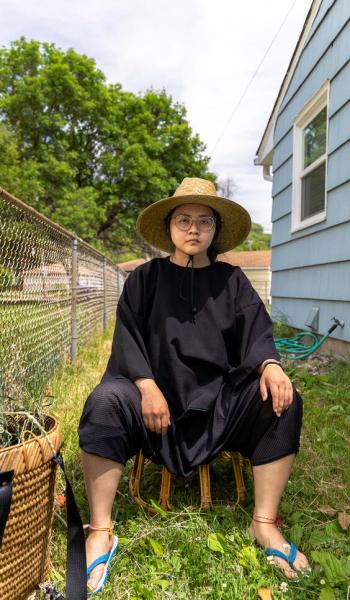 Dej Txiaj Ntsim, Kuab Maiv Yaj, Koua Mai Yang explores HMong history, culture, and identity in her work. Her current and ongoing project, Hnav HMoob, Wear HMong, recenters HMong ways of knowing, the artistic practice of textiles, and HMong fashion in her everyday life. Through photographs, moving images, and installation, this project engages in ancestral HMong clothing making, dressing, and performance to raise questions about HMong materiality, aesthetics, culture, and the female representation through the circulation of global cultural production. A consistent gesture in the work is addressing gaze and questions of authorship in HMong culture for a historically nationless community. Yaj's practice moves slowly and lingers on the complications of HMong participation in capitalism--in the selling and consumption of HMong bodies and knowledge. Yaj seeks to understand the history of HMong ancestral dress from a female perspective, as a place of labor, both experientially and through an embodied methodology.
Yaj received a BFA from the University of Wisconsin-Milwaukee in 2012 and an MFA from the University of Minnesota Twin Cities in 2020.
---
About the MCAD-Jerome Foundation Fellowship for Early Career Artists
The Minneapolis College of Art and Design (MCAD) is honored to have been the administrative home for this fellowship program since its inception in 1981. These artists were selected out of a pool of 100 applicants by a panel of arts professionals that included Jackie Clay, executive director of Coleman Center for the Arts in rural West Alabama; Dushko Petrovich, artist and professor of New Arts Journalism at the School of the Art Institute of Chicago; and Ginger Porcella, executive director and chief curator of Franconia Sculpture Park.
Remarking on the fellowship jurying process, Petrovich stated: "Jurying this fellowship was a great way to learn about and discuss the work of emerging artists in the Twin Cities."
This competitive fellowship provides $10,000 awards to each recipient. In addition, the fellows have the opportunity to meet with visiting critics over the course of the fellowship year, to have their work featured in a group exhibition that will open in January 2022 in the MCAD Gallery, to have an essay written about their work that appears in the exhibition catalog, and to participate in a public panel discussion.
The Jerome Foundation has generously supported this fellowship program since its inception in 1981.