Page Contents
Overview
The content editor (also referred to as the text editor) is found throughout Blackboard—most commonly when adding information in Announcements, Weekly Content (instructors), and the Discussion Board (students and instructors). In the editor is a toolbar that contains a number of different options to facilitate optimal content editing.
Here's the editor with key toolbar elements.
(Note that when you are using the editor in Blackboard, you can hover your cursor over any of the toolbar items and the tool name will appear; also, by clicking on the Help tool, you get a full, detailed listing of all the tools) 

Text Effects - Bold, italics, underline, strike-through.
Font Modification - Format, family, size.
 Create lists - Bulleted or numbered.
Coloring - Text or highlight.
Remove Formatting - This can be useful when pasting in text from an outside source and unwanted styling is brought in.
Help - A comprehensive listing of the toolbar items and what they do.
Show More/Less - "Less" shows the very basic toolbar; "More" shows the toolbar pictured here.
Cut/Copy/Paste - If you don't want to use your computer's controls you can use these instead.
Undo/Redo - Erase or duplicate your last action.
Text Alignment - Five different options.
Hyperlink - Select the text you want to serve as a link and click on this button.
File Attachment/Image Embed/Video Embed - See the sections below on this page.
Table - Click here to insert a table of rows and columns.
HTML - Know how to code in HTML? Click on this button.
Expand Editor View - Click on and hold down the corner and drag to your preferred size.
Here is a brief video that walks through the basics of the Blackboard content editor: How to modify/format text, how to insert a working hyperlink, how to insert an image, and how to embed a video.
Paragraphs and Line Breaks
By default, the Blackboard editor creates a new paragraph whenever you hit the Enter/Return key. That is, an extra line is created between your last line of text and your next line of text.
If you'd like to move to the very next line, without creating that extra line that occurs when hitting Enter/Return, just hold down your Shift key along with Enter/Return.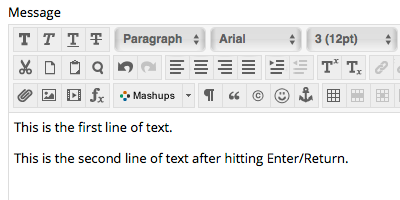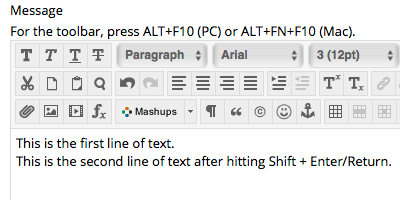 Inserting a Link
1) Copy a valid URL of the web page you want to link to.

2) In the Blackboard editor, select the text you'd like to use for your link.

3) Click on the hyperlink icon in the editor toolbar.



4) A new Link window will open. Paste your copied URL into the Link Path field.

5) Select how you'd like the linked-to page to open for users when they click your link. The default is set as Open in This Window/Frame—the linked-to page will open in the same browser window. However it is recommended instead to choose the Open in New Window option.

6) Click the Insert button.
Your link is now set, as indicated by the text displaying as blue and underlined. (You should also test to make sure the link works properly before submitting your text item.)

Inserting an Image
1) Prepare the image you'd like to insert, and keep track of where it's saved or what the web URL is (you can use both local files that are stored on your computer and images located on the web). Try and make sure your image is formatted correctly before you insert it (See this article for tips on image preparation).
2) Click on the Insert/Edit Image toolbar icon.

3) A new Image window will open. Either enter your image URL (if you're using a web image) or click Browse My Computer to retrieve and load a saved image.

4) Upon selecting your saved image, the Image URL field will be automatically filled and your image will appear below.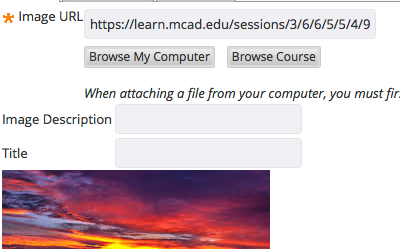 5) At this point you can also click on the Appearance tab and modify such elements as: how the image is aligned (left, right, middle, etc.) on the page and image dimensions.

6) Click the Insert button.
Your image is now in place in the editor.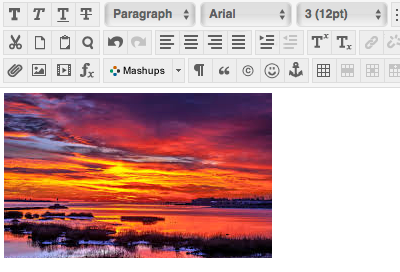 Note that after inserting the image you can go back in and edit it at any time by clicking on the image and then clicking the Insert/Edit Image icon from the toolbar—the same Image window as described above will appear.
Additionally, you can adjust the size of your image right in the editor. Left click on the image so that it takes on a slightly grayed-out appearance. Small coordinate boxes will also appear around the image border. Just click on and hold down any of those, and then drag to adjust the image size. Note that the length/width proportions cannot be changed—as you make the image taller it must also become wider.

Embedding a YouTube Video
The advantage of embedding a video—rather than simply linking to it—is that it can be viewed right there in Blackboard, without having to navigate back and forth.
1) In YouTube, find the video you want to embed. Click the Share button right below the video.
2) Click on Embed and then copy the string of code that appears.

3) In the Blackboard editor, click on the HTML button from the toolbar.

4) An HTML Code View window will appear. Paste in the code that was copied from YouTube and click Update.

The embed will initially render as a yellow box upon updating—but don't worry, the actual video will show up once you click Submit. The basic YouTube controls (Play, Pause, volume) will be available to users.
(Note that you can also embed videos from Vimeo as well, with an almost identical process as described for YouTube. Visit this Vimeo help page for details.)
Copy and Paste from an Outside Document
This usage example is for a Microsoft Word document, but it can be applied to other outside sources as well.
1) In Word, copy the text you'd like to paste into Blackboard.

2) Back in the Blackboard editor, paste the copied text where you like it to go.


3) To even out that text you just pasted in, so that it matches with your original text, select the copied text and then click on the Remove Formatting icon from the toolbar.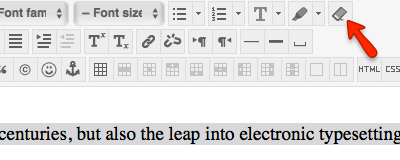 Things are now evened out, with the copied-in text matching the original text.

Additional Resources