Cargo is a website building platform for designers and artists. Members of the MCAD community can created public Cargo sites for free using the instructions and code below - this upgrade otherwise costs at least $99/year. Please see Cargo's support site for a full list of features and instructions.
To get started, visit https://cargo.site from an updated version of either Chrome or Safari and click "Get started for Free" (or "Templates" at the top of the page). Cargo is not supported in Firefox as of February 2021.
Choose a template for your new site. In the upper right corner, click "Start with this Template."
Enter your information to create an account. We strongly recommend using a non-MCAD email so that you don't risk losing access to your site if you leave or graduate from MCAD. Choose a Cargo URL and a name for your site.
Once you've created an account, you should be taken to https://[your site name]cargo.site/admin/settings. Your site exists and you can edit it, but it won't be publically available until you upgrade. To do this, click the gear icon in the upper right corner and then click "This site is Private: Upgrade to go Public."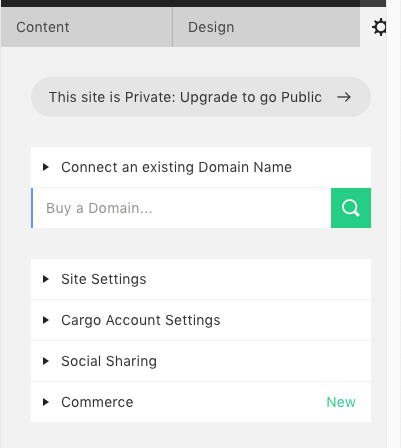 Next, select "Promo Code."
MCAD's current promo code: 6f8cf7f3
After you click "Submit," your site will be public by default. You can make it private again and change other settings under the Site Settings menu.
This code is valid for use until September 13, 2021, and it provides a full 1-year upgrade with no restrictions from the time of the code's application. A new code will be provided every year so that enrolled students can keep their sites upgraded. If your site upgrade has expired or this promo code isn't working, please contact helpdesk@mcad.edu.