Blackboard classrooms rely on a communications feature called the Discussion Board. The Discussion Board is where online class discussions takes place. The Discussion Board enables students to post comments, share their research or discoveries, and give and receive with an attached image or other file types. In this way, the Discussion Board can feel very similar to face-to-face exchanges.

The Discussion Board link is located in your classroom Course Menu.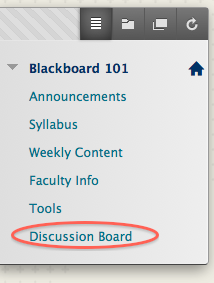 The Discussion Board is divided into Forums, each relating to a different subject/section/week of your class. You enter a Forum by clicking on its title:



To create a new thread, click Create Thread. You can also click Expand All to see a list of each response within each thread (for example, this post shows Mona Lisa has replied to Sarah Thornton's thread).