The end of the semester (and/or graduation) is approaching!!!
Many of you will have print-related needs for your Senior Projects and finals. If you are anticipating a high volume of print-related material or have advanced or complicated needs, this is an invitation to contact and/or meet with our staff to discuss your needs in advance to make sure we can help you, that there is enough time, and that we have enough materials, if necessary. This is a good time to take advantage of our printing appointment service. Call or email to set up a specific time to get one-on-one attention for your project(s).
This is also a reminder that even if you aren't doing any high-volume or complex printing, to leave enough time to do what you need to. Pay attention to our Turnaround Times chart, attached below.
We know this is a stressful time of year for everyone and we want to make sure we do everything we can to help you get through it.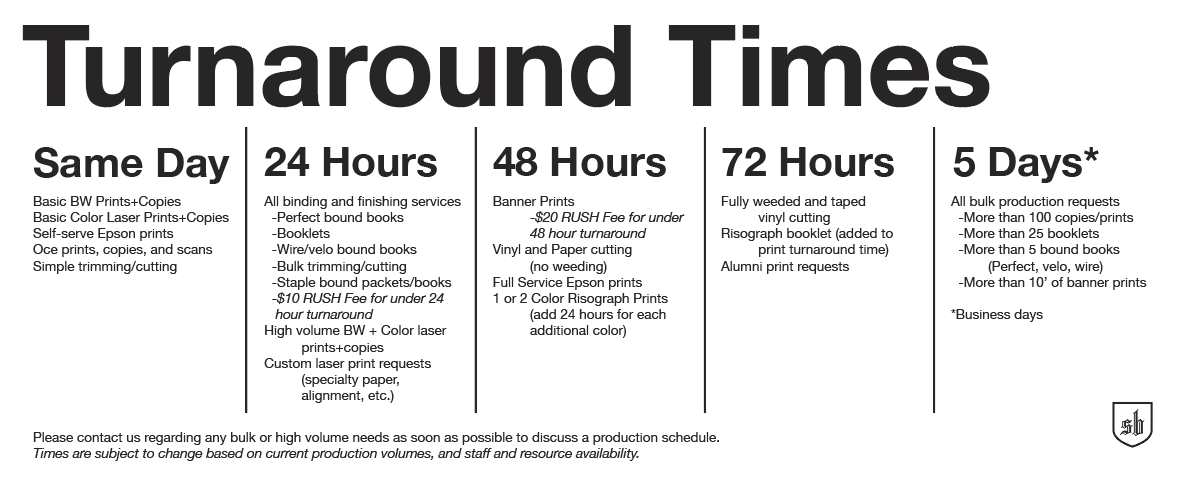 December Grads Only
Please remember that any remaining balance in your PaperCut printing account cannot be disbursed after you graduate. Your MCAD Login will be deactivated the first week of January. Please use up any remaining balance before then.