---
Introducing video streaming for academic libraries
---
FIND ARTICLES
FIND IMAGES
FIND BOOKS
SPECIAL COLLECTIONS
TEACHING AND LEARNING RESOURCES
LIBRARY HOURS
SPRING BREAK HOURS
March 11–19
Saturday, 3/11–Sunday, 3/12: Closed
Monday, 3/13–Friday, 3/17: 9:00 a.m–4:00 p.m.
Saturday, 3/18: noon–5:00 p.m.
Sunday, 3/19: noon–10:00 p.m.
REGULAR SPRING SEMESTER HOURS
Monday–Thursday: 8:30 a.m.–10:00 p.m.
Friday: 8:30 a.m.–5:00 p.m.
Saturday: noon–5:00 p.m.
Sunday: noon–10:00 p.m.
LOCATION
2501 Stevens Ave.
Minneapolis, MN
55404
L105
PHONE
612.874.3791
EMAIL
library@mcad.edu
---
CALL FOR ART FALL 2023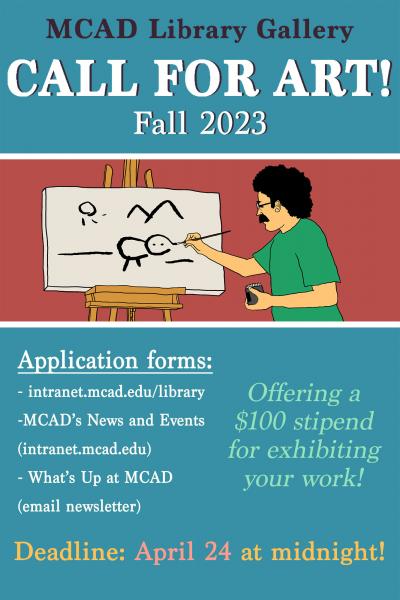 Poster by Avery Luthardt. Instagram: @averyluthardt YouTube: @averyluthardt
The Library is accepting Library Gallery exhibition submissions for the Fall 2023 semester. The Library Gallery is a Library staff-run exhibition space available to students at MCAD.
In the form below, you will find the submission process for exhibiting in the Library Gallery. Please apply! The deadline is Monday, April 24, 2023. Please contact the Library (library@mcad.edu) with any questions.
Fill out the submission form: Library Gallery @MCAD - Call for Art (for Fall 2023 semester).