In recent years, MCAD has introduced the Animation Server to supplement class server storage needs for students in the animation department. This server exists in addition to the normal class servers of each animation class, as animators tend to need support for larger quantities of data.
If you are currently enrolled in an animation class, you should have access to the Animation Server with your MCAD Login credentials.
To Access the Animation Server:
1. Open Finder. From the top menu bar, open the Go menu and select Connect to Server. The Connect to Server window appears.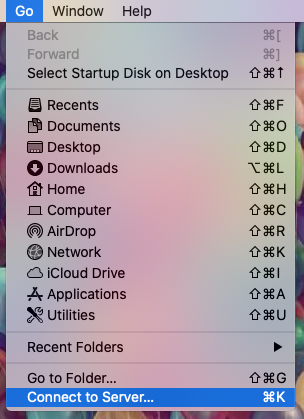 2. In the Server Address field, type "afp://animation.mcad.edu". This might be automatically filled in; if it isn't, you can add it to your Favorites by pressing the + button in the lower-left corner, and then in the future, you can simply select it from the list.
Click "Connect" in the lower right corner of the window.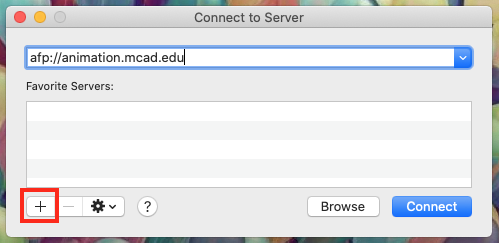 3. Change your full name to your MCAD username (first initial last name). This is especially important if you are off-campus. Use the password for your MCAD Login. Click "Connect."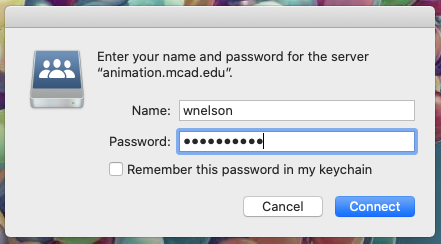 4. As on the class server, animation students will have the ability to create/add/delete files in the Playground folder and read-only access to the Resources folder. Please do not alter or move the files of other students in the Playground folder.
At this time, we ask that you do not store over 15GB of data on the animation server. If you have uploaded more than this quantity of data, you may be contacted and asked to remove it. Especially towards the end of the semester, excess data on the Animation Server can mean that others will not be able to use the server and may put your data at risk of being corrupted.
For questions relating to the Animation Server, please contact the MCAD Help Desk by emailing helpdesk@mcad.edu or by phone at 612-874-3666.