1. You can renew itemsthru the link Your Library Record/Renewals on the Library's intranet page

OR
online through your account in the library catalog

2. Once you get to your borrowing record, you'll see the tab for "Checked Out Items" with the titles and due dates of your loans.
Click on "Renew this" for each item.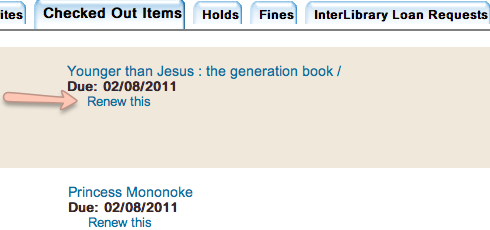 3. If the renewal was successful, you'll receive a pop-up message with the new due date

4. Back on your account in the catalog, you must refresh your browser window to see the new due date. And you must renew each individual item.
5. If you have problems renewing, please contact us: library@mcad.edu or (612) 874-3791. It might be that the item is reserved for someone else or you have a block on your record.