MCAD provides a "Guest" WiFi network on campus which does not require an MCAD Login to join. If you have an MCAD Login, we recommend you do NOT use the MCAD-GUEST network and that you remove it from your list of saved networks.
The Guest network is significantly limited. It is provided as a courtesy to visitors who need brief access to basic web traffic only, but it's not designed for academic or staff use. If you are connected to this network, you will not be able to access many campus services, including printers and servers. You'll also experience issues using Google Meet and doing most tasks that require internet.

You can check what network you're connecting to by clicking the WiFi icon in the top menu bar and noting which network has a check mark next to it.

To disconnect from and "forget" the MCAD-Guest network:
Click the WiFi icon in the top menu bar, and select "Open Network Preferences."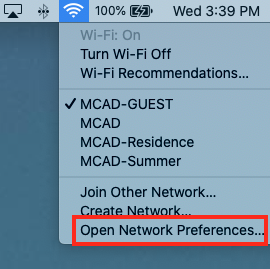 Click the button that says "Advanced" in the lower right corner.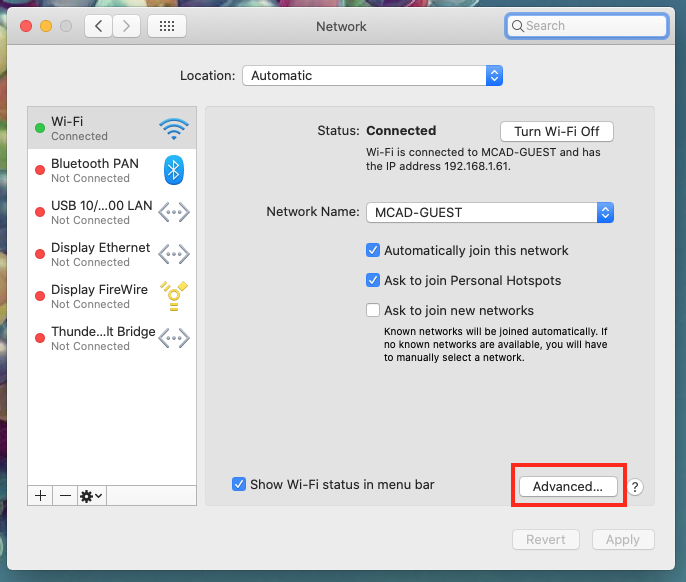 Find MCAD-GUEST in the list of Preferred Networks. Highlight it and click the - button just below this list.
Click OK, and then click Apply.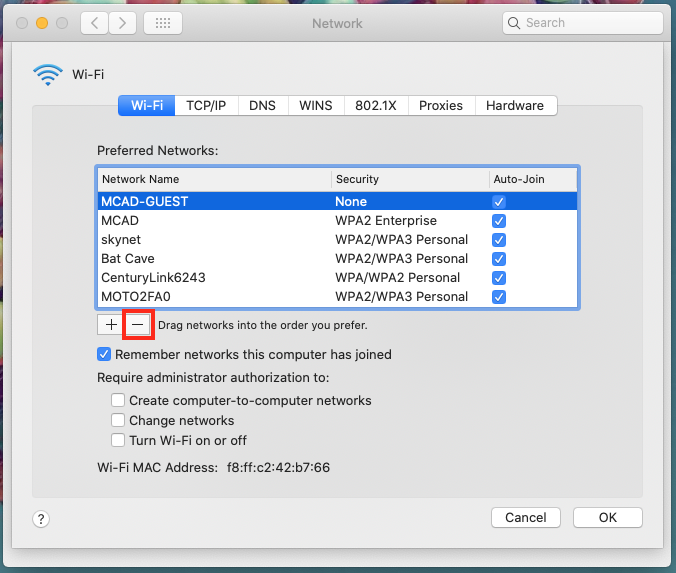 Click OK, and then click Apply.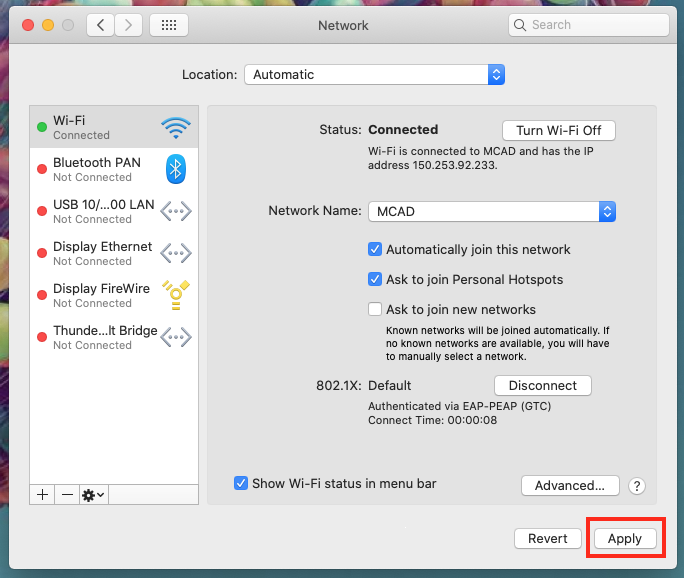 To connect to the regular MCAD network:
See this article for links to instructions for connecting on Mac, Windows, iOS and Android.
If you're on a Mac, click on the WiFi symbol in the top menu bar.
Select "MCAD" from the list of networks.
Log in with your MCAD Login username and password - the same credentials you use for Canvas, MyMCAD, your email, etc. Click connect.
Click "Continue" on the next box that opens, and enter your computer password.
MCAD Wifi for Visitors
MCAD also offers a visitor login that visitors can use to connect to the regular MCAD network on a day by day basis even if they do not have an MCAD account. The password changes each day. Reach out to the Help Desk to request the current password.
You can contact us at 612-874-3666 or helpdesk@mcad.edu.