New to Risograph printing? 

Make an appointment

 if you would like to chat about your file setup, submitting orders or anything else riso. 
Ready to submit an order? 

Fill out our handy order form

, email it to sbureau@mcad.edu, and drop your files into the sbdropbox server, or email them to us. 
WHAT IS RISO PRINTING?
A Risograph is a digital stencil duplicator designed for high volume reproduction of designs. As a printing method, a risograph printer sits somewhere between screen printing and offset lithography.
It uses brightly colored inks, or "spot colors" allowing a wide range of bright and beautiful colors. Great for bold designs, illustrations, experimental photographs, posters, and comic art.
With natural inconsistencies, imperfections, smudges, and roller marks you can expect each print in a set to be a unique piece of art!
Turnaround:
2 business days for one color + 1 business day for each additional color (minimum of 1 day of drying time per color)
Riso prints are run 9:00 am - 7:00 pm Monday - Thursday, and 9:00 am - 5:00 pm on Fridays. No riso printing on weekends. 
There are no rush options for the Risograph.
Order Minimum: 
10 copies (5 copies can be negotiated for testing purposes on bulk orders)
Paper Sizes/Printable Area:
Letter (8.5x11): 7.75 x 10.25
Tabloid (11x17): 10.25 x 16.25
Customer supplied paper: min 7.25x10.25", max 12.5x17"
We recommend including 1/4 - 1/2" borders in your document for best results.
Paper Type:
Uncoated, toothy/textured paper between 75gsm (20lb text) - 216gsm (80lb cover) weight is ideal.
Heavier papers will yield more mis-registration; if closer alignment is important to you, choose a lighter weight paper. 
Our medium weight 176gsm (65lb cover) paper tends to work the best for most projects in our experience.
Ink Colors: see print samples in the SB
Yellow (HEX: FFE800, Pantone: Yellow U)
Bright Red (HEX: F15060, Pantone: 032 U)
Blue (HEX: 0078BF, Pantone: 3005 U)
Fluorescent Pink (HEX: FF48B0, Pantone: 806 U)
Mint (HEX: 82D8D5, Pantone: 324 U)
Black (HEX: 000000, Pantone: BLACK U)
Kelly Green (HEX: 67B346, Pantone: 368 U)
Violet (HEX: 9D7AD2, Pantone: 265 U)
Pricing: 
Most print jobs fall in the $10-15 range for a set of 10 prints. (e.g. 10 copies, 11x17, 2 color, 176gsm paper = $11.00 total)
Price is calculated based on the following factors: Number of colors/layers, page size, quantity of print run, paper type(s), additional finishing
Please ask for a price quote for your project prior to file submission
Finishing Options:
- Thermography: Heat embossing, adds a raised plasticy layer to a single ink color. Requires appointment with SB staff to approve design will work for thermography. Additional $5 per sheet.
- Trimming: Please note that due to the offset/misalignment nature of risograph printing, stack trimming is only offered on a case by case basis. Most riso projects require hand trimming each individual piece.
- Booklets/binding: If you plan on making booklets/books with your riso prints, please account for overage (print more than you need, just in case).
File Setup: 
While we can print most file types with the Risograph, we do have preferred file types and a few requirements in order complete your order as best we can. 
Print file must be in greyscale/B&W 

make sure tonal value is accurate 

include a color mockup for reference

We prefer layered files, packaged, with outlined type where appropriate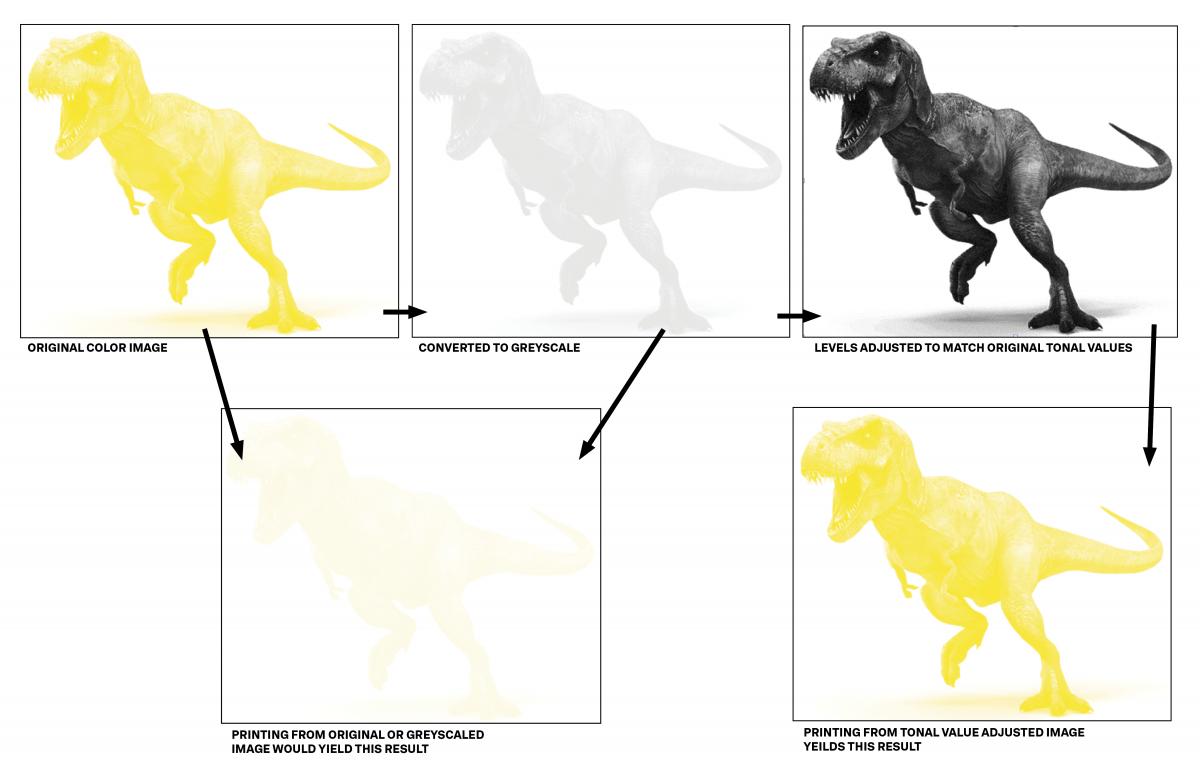 Fun facts
Risograph is a cost-effective printing process which uses single colors to print designs from a master stencil

Only one ink color can be loaded into the printer at a time, so each color needs to be in a separate layer or file in order to isolate it for printing

It requires a day of drying time in between each color, so multi-color images will take multiple days to print

The printer pulls each sheet of paper through the printer multiple times for multiple colors, so each print will come out with slightly different alignment, ink density, smudges, and imperfections (this is part of the charm and beauty of Risograph printing)

The Risograph was built for large print runs, it really doesn't get its sea legs until it has printed 20-30 copies. The start of a print run will have denser ink, uneven coverage, and wonky alignment. Prints will even out and become more consistent after about 10 copies.

We estimate that out of a print run of 10, you will get 3-5 "good" prints that have smooth coverage and good alignment (this can vary based off paper weight, color quantity, etc)


Files for the Risograph need to be in greyscale, it will print with a full range of tones for the color selected. Imagine "redscale" or "yellowscale" or "bluescale", similar to how a b&w printer will print in greyscale with a full range of black tones

Risograph inks are semi-transparent. Layer colors to mix and create new colors! (e.g. printing flourescent pink over yellow will yield a bright orange)

The Risograph uses different printer settings to achieve various halftone dot/dither patterns from grayscale images: 43 lpi (large dot), 71 lpi (small dot), 106 lpi (tiny dot), photo grain, and line/solid - you can choose your preferred print settings for each layer, or "Printer's Choice" for our expert  
DOWNLOAD--> OUR HANDY BROCHURE <-- FOR ALL THE DETAILS, INCLUDING SETUP INFO.
(If you want photo-quality prints we recommend using the ImagePress color laser or Epson inkjet printers instead.)