Canvas offers multiple help options that can be accessed directly from the Dashboard in the Help Menu.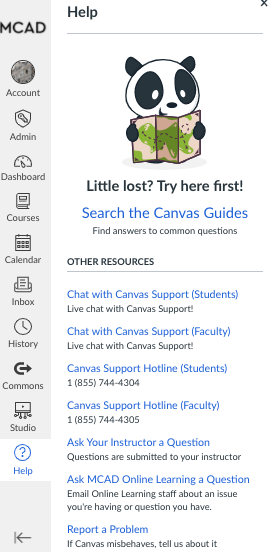 For questions related to Canvas use, the Canvas Guides are a great resource for faculty. In addition, faculty has also the option to Ask the Community. This is the place to ask questions to the community of Canvas users about anything related to Canvas; For example an instructor is trying to set up Mastery Paths and after viewing the Canvas Guides she still needs clarifications. It is likely that somebody else in the community is tackling a similar project and has posted a question. In Canvas Community, an instructor can choose to ask a question, start a discussion, or post a blog within a specific group of her choice.
If you feel that you need further assistance with Canvas, do not hesitate to contact online@mcad.edu.