If you are having problems using your ID in the library catalog or interlibrary loan, you many have one of the following problems:
1. You are using the wrong number. Your student number or MCAD login will NOT work in the library catalog or for interlibrary loan (though yes for off campus use).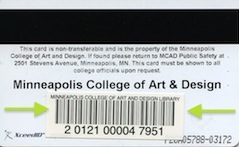 2. You aren't using your last name as your password.
3. You have 2 last names or go by a different last name. We use your official last name that you registered at MCAD with, including hyphens and spaces.
4. We made a mistake on your record when we added your barcode to your ID.
If you are having problems, please let us know: library@mcad.edu or (612) 874-3791