At the conclusion of each semester, all faculty are required to submit a selection of completed student assignments and/or project documentation for each of their classes to their Department Chair. MCAD provides a server-based submission tool to facilitate these submissions.
For additional information on file formatting standards, please see the KB article: Format Recommendations for Archiving Student Work.
To access your CourseWork Server folder using an Apple computer (both on and off campus):
1. Open Finder. Pull down the "Go" menu from the menu bar and select "Connect to Server." The "Connect to Server" window appears.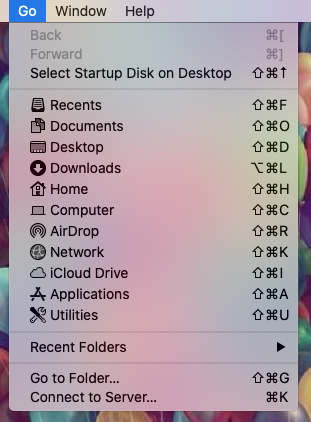 2. In the Server Address field, enter 'afp://coursework.mcad.edu'. This might be automatically filled in; if it isn't, you can add it to your Favoritesby pressing the + button in the lower-eft corner, and then in the future, you can simply select it from the list.
Click the "Connect" button to continue.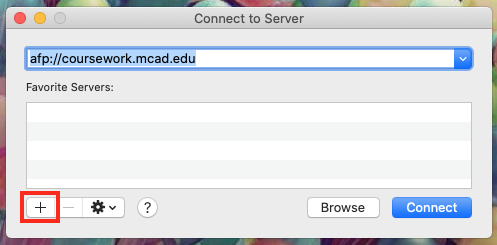 3. Change your full name to your MCAD username (first initial last name). This is especially important if you are off-campus. Use the password for your MCAD Login. Click connect.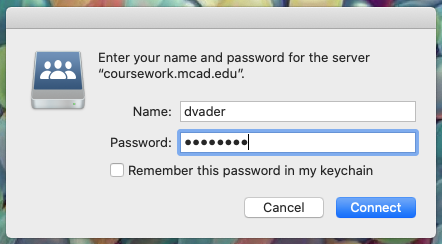 4. The server volume will now appear on the desktop, named "CourseWork Archive". Open the current academic year folder (i.e. "2020-2021"). From there, open the current academic semester folder (i.e. "Fall/Spring") Scroll through the folder listings to find your class. Class folders are named by course code and class name. You will see all classes listed, but you will only have access to the classes in which you are enrolled.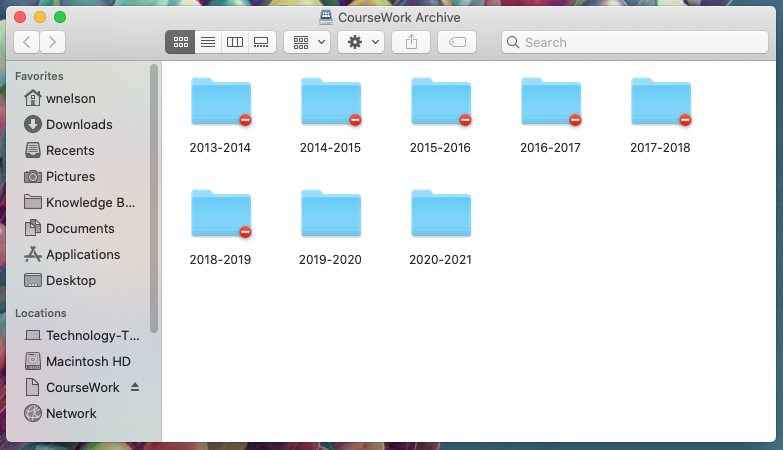 Once inside that semester's classes' CourseWork folder, you may drag and drop folders and/or files of saved work. Your Chair also has access to this server and will download the submitted files at their convenience. Two weeks after the start of the next semester, the previous semester's folder is locked and additions are no longer permitted.
To access your CourseWork Server folder in Windows: It is only possible to access the CourseWork server via SFTP on Windows. Please see this KB article for details.
If you run into issues with accesing the CourseWork Server, please contact the MCAD Help Desk by emailing helpdesk@mcad.edu or by phone at 612-874-3666.