Canvas offers multiple help options that can be accessed directly from the Dashboard in the Help Menu. Students will see the following options: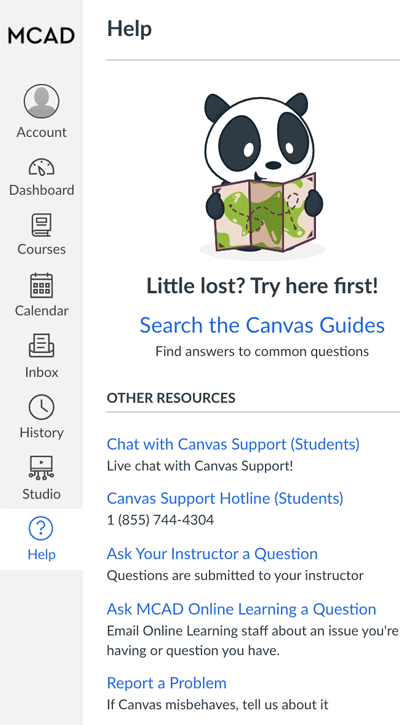 According to the nature of the question, there are multiple ways to find an answer. Questions about Canvas use can be answered consulting the Canvas Student Guide. If a student is trying to find out how to embed an image in the Rich Content Editor or how to submit a peer critique assignment, the Student Guide is a great place to start because it provides informatin on how-to for a variety of topics.
If in need of troubleshooting, students can contact their instructor, Online Learning, or Canvas support. The latter can be contacted via phone, via chat, or by sending a ticket. When reporting a problem the user is prompt to label the degree of urgency of the ticket - this will determine the turnaround time for a reply.
What is nice about the Help Menu is that all the above options are listed in one place.
If you feel that you need further assistance with Canvas, do not hesitate to contact online@mcad.edu.