If you followed all posted (or verbal) instructions and your prints still didn't come out right, there was a mechanical problem with the printer, or the toner was low, you can log into your print account and request a refund.
Log into your printing account at papercut.mcad.edu and click on the Recent Print Jobs button.
Find the file you want to request a refund for.
On the far right side you will see a Request Refund link. Click it.

Please fill in the form with as much detailed information as you can.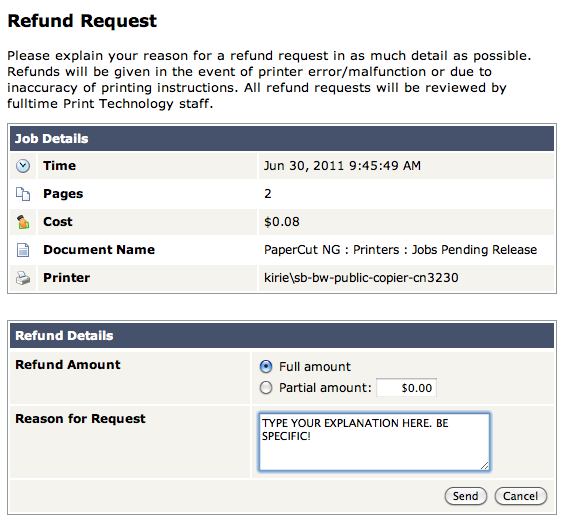 If you are requesting a refund for an Epson print, we need to see the bad print! This way we can help you determine the cause of the error, explain where things went wrong and fix the printer if necessary! Please bring the print to the Service Bureau, and fill out a Color Print request form (so we know from whom the print originated, and why it is being left for our full-time staff).
Requests will be reviewed within 24 hours by ful-ltime Print Technology staff.
You will be notified whether your request is approved or not. If approved, your account will be credited automatically!