You can place a request for any book you want and it will come to you in 5 days (on average.) We use MnLINK to place requests. Just check our catalog first to make sure we don't already have it!
1. Go to MnLINK directly at http://www.mnlinkgateway.org
ILL blank request forms can be found.
Or follow the directions below

2. Using the

,you can search for your book with title, author or keywords. Once you get results, it doesn't matter which library owns it, our system will deal with that. Click on the title to review the record.
*If you do not find the book you are looking for in MnLink you can still request it using a blank request form.
3. Once you are certain this is the item you want, click on the "Get It" button

4. You will be asked to log in (only for your first request of that session)

5. The request will appear, but you haven't completed it yet! You must
a. change the pickup location to "Managed by MnPALS"
b. click on the "request" button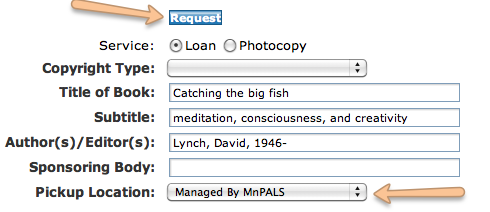 6. Look for a message of success

7. Now sit back and relax. You will receive an email from us when it is ready for you. You can also check your record in the catalog to see what stage your request it at. Please contact us with any questions: library@mcad.edu or (612) 874-3791